Vice President Kamala Harris visited Highland Park, Illinois, on Tuesday, calling for a nationwide ban on assault weapons a day after a gunman opened fire on an Independence Day parade and killed seven people.

"Yesterday should have been the day to come together with family and friends to celebrate our nation's independence," Harris said earlier, during the National Education Association conference in Chicago. "And instead that community suffered a violent tragedy — children, parents, grandparents — victims to a senseless act of gun violence."

Advertisement

"There is no reason we have weapons of war on the streets of America," she added. "We need reasonable gun safety laws."

Robert Crimo III, 21, has been accused of killing seven people and wounding dozens of others by opening fire on the parade route. Authorities said the attack had been planned for weeks. Police said that Crimo fired more than 70 rounds into the crowd with a rifle and then dressed as a woman to escape and blend into the crowd.

He was arrested later Monday after fleeing from officers during a traffic stop. Authorities charged him Tuesday with seven counts of first-degree murder, noting dozens of other chargers would be filed in the coming days.

The rifle used in the attack had been legally purchased.
Vice President Kamala Harris just spoke at the scene of the Highland Park mass shooting.

"We have to take this stuff seriously, as seriously as you are because you have been forced to take this seriously," she said. pic.twitter.com/vpLSydpJM0

— Jake Sheridan (@JakeSheridan_) July 6, 2022
Advertisement

Harris, who had been scheduled to speak in Chicago before the shooting took place, renewed the White House's calls for a ban on assault weapons and the passage of new gun safety laws. Those calls have only grown after a spate of devastating mass shootings in recent months, including the massacre at an elementary school in Uvalde, Texas, that left 21 people dead, including 19 children.

"We've got to be smarter as a country in terms of who has access to what, in particular assault weapons," Harris said later that day during a visit to Highland Park with the Chicago suburb's mayor, Nancy Rotering. "The whole nation should understand and have a level of empathy to understand that this could happen anywhere in any peace-loving community. And we should stand together and speak out about why it's got to stop."
Related...
Suspect In Illinois July 4 Mass Shooting Charged With Murder
These Are The Victims Of The July 4 Highland Park, Illinois, Shooting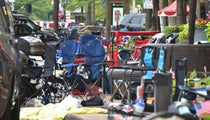 At Least 7 Killed In Shooting At Fourth Of July Parade In Highland Park, Illinois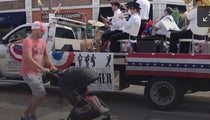 Blood-Smeared Toddler Reportedly Found Orphaned At Highland Park Parade Shooting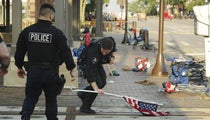 Go To Homepage

Nick Visser
Senior Reporter, HuffPost
Do you have information you want to share with HuffPost? Here's how.
More:kamala harrismass shootingschicagoassault weapons banHighland Park, Illinois
Popular in the Community
Trending

Trump Tries Mobster-In-Chief Role With Attacks On Law Enforcement

2022 MTV VMAs Red Carpet: All The Wildest Looks You Need To See

Houston Ex-Tenant Kills 3 Others After Luring Them With Fire: Police

Marco Rubio Has An Odd Solution For Student Loan Debt, And Twitter Can't Bear It

Taylor Swift Arrives At VMAs Dripping In Diamonds And Fans Have A Theory About Her Dress
Newsletter Sign Up
Politics
HuffPost's top politics stories, straight to your inbox.Successfully Subscribed!Realness delivered to your inbox